Communicating Corporate Change
It's hard enough to stand out from the crowd when you're marketing an exciting new product. But imagine how hard it is when you're up against ingrained behaviours!
That's the problem when you're managing change in an organisation. And with today's digital transformation, evolving commercial models, automation and globalisation, change is the one thing that's constant.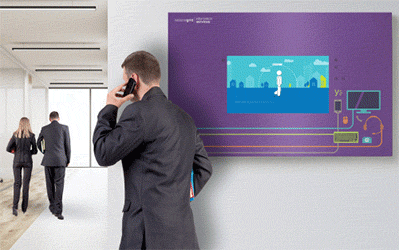 Get your message to stand out in public spaces using the Hybrid Video poster.
To get results, communicating change is essential. To get results, you must cut through the waves of corporate communication that doesn't excite or engage. You need visibility, emotional resonance, and exciting new approaches that will get people's attention. It demands visible leadership from the top and a consistent flow of cultural change activities on the shop floor. Sustaining interest is hard – it deserves innovation and flair. But everyone's email is overloaded. Videos get lost on the intranet. And both rely on computers and connectivity.
Cut through intranet and email clutter by providing key managers what they need to know in a convenient handheld pack.
PitchPack is the antidote. The PitchPack was originally designed for marketing – to help our clients stand out from the crowd when presenting tenders. But it turns out that PitchPack is innovative, flexible, and disruptive – ideal for making change messages compelling and engaging. We've learned lots of lessons from successful sales campaigns and applied them to organisational change – after all, as a communicator you are effectively selling a vision of the future.
PitchPack Tabletop is perfect for public areas such as around the watercooler or project display areas.
PitchPack communicates change clearly and simply, yet gives you all the design and brand quality you'd expect from great video. And because PitchPack comes in a range of form factors (wall-mounted posters, table-top packs, leaflets, books and folders) for every application, it's everywhere your team is: PitchPacks have been used everywhere from boardrooms to Port terminals. And unlike pure print, you can change the content of your PitchPacks, so as your change campaign matures, you can amend the messages yourself, generating longer-term value and a lower cost of deployment.
Applying PitchPack during your Change Process:
PitchPack is used by the following organisations:








If you want to escape the ingrained habits of today, you need to excite your team with a vision of tomorrow. And that means doing things differently. Put PitchPack at the heart of your change communication programme, and use tomorrow's media for change today.
PitchPack offers an end-to-end service with any or all of:
Strategy & Value
Hardware
Creative & Video Production
Design
Manufacture
Shipping & Distribution
Shipping & Distribution